Laser-cut-gate-design-8
May 23, 2022
Laser Cut Gate Design 9
A black and golden color door with a laser cut design, a golden border, and black background is a stunning addition to any space. This door is not just a functional element, but also a statement piece that will add elegance and sophistication to any room.
The door's black background creates a striking contrast against the golden border, making it stand out and catch the eye. The border adds a touch of luxury to the door, while the black background provides a sleek and modern look. The laser-cut design adds intricate detail to the door, making it a work of art that is sure to impress.
The golden color of the border and laser-cut design creates a sense of warmth and richness, while the black background provides a sense of depth and mystery. The combination of these colors is both bold and sophisticated, making it a perfect fit for a variety of decor styles.
The laser-cut design is the star of the show, showcasing an intricate pattern that is sure to leave a lasting impression.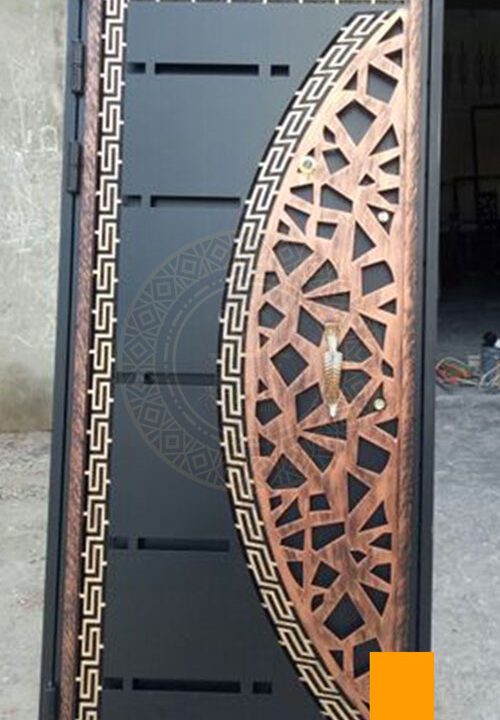 LASER CUT GATE QUERY
Metal laser cutting is a process in which a high-powered laser is used to cut through various types of metal sheets, plates, and pipes. This technology offers several benefits over traditional cutting methods, such as plasma or water jet cutting, including superior precision, speed, and versatility.
In metal laser cutting, a computer-controlled laser beam is directed onto the material to be cut, which melts, burns, or vaporizes the metal. The laser beam can be precisely focused on a very small area, allowing for extremely precise cuts and intricate designs. This technology is particularly useful for cutting complex shapes, such as those needed in the manufacturing of metal parts for automobiles, airplanes, and other high-tech industries.